Inspection Foups – Systèmes d'inspection de Foups semicon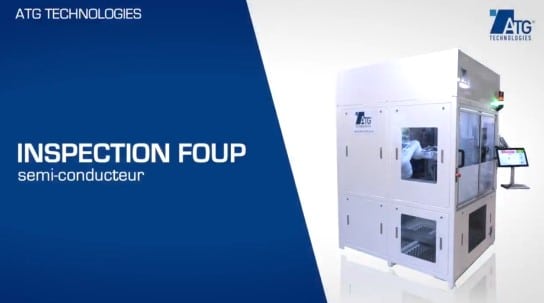 Les plaquettes de silicium (wafers) sont généralement maintenues et transportées à l'aide d'une enceinte unifiée à ouverture frontale ou d'une enceinte universelle à ouverture frontale (FOUP), une enceinte en plastique spécialisée spécialement conçue pour le stockage des plaquettes. Une autre utilisation courante des FOUP est le transport des plaquettes entre les outils de traitement.
Les dommages physiques aux FOUP et la contamination physique sont universellement reconnus comme étant l'une des principales sources de défectuosité des plaquettes dans les fabs de semi-conducteurs, ce qui entraîne des pertes de rendement redoutables. Étant donné que les wafers passent près de 70% de leur cycle de fabrication dans les FOUP, il est donc nécessaire d'effectuer un contrôle de l'intégrité des FOUP avant de les utiliser dans le processus de fabrication si l'on souhaite obtenir le meilleur rendement de fabrication. Pour ce faire, nous devons utiliser un système d'inspection des FOUP.
The system must be in-line so that the FOUP inspection system is capable of detecting any FOUP damage or physical contamination at every stage of the manufacturing cycle. When the system is correctly incorporated in-line, it can then be used to provide methods of taking corrective actions before « killer defects » actually occur on wafers. The automated FOUP Inspection System by ATG Technologies is one of the latest and most reliable systems and is essential if you are looking for wafer defects related to FOUP integrity reduction in your Fab.
Due to its reliability, ease of use and easily interpreted results, the ATG Technologies automated FOUP Inspection System enables operators to identify if there is any damaged or physically contaminated FOUP present in the manufacturing process and sort it if needed. Some of the most important features of the system are its user-friendly interface, the multi-purpose robotic arm and the high-quality inspection cameras which are used to check the integrity of the FOUPs.
Benefits of a FOUP Inspection System
The use of a FOUP inspection system delivers many benefits to any semiconductor fab, such as:
Implement a more complete and quicker FOUP control process
Ensure that wafers are processed in Fit For Use FOUPs.
Add new defect detection thru a quick setup process
Integrate easily new FOUP types in Manufacturing process
Applications for Foup Inspection Systems
A FOUP inspection system can include the following applications:
Identify FOUP Type and FOUP/Door Adequacy
Inspecting transport Mushroom integrity
Inspecting door opening system integrity
Inspecting purge port integrity
Checking FOUP slots and door integrity
Checking physical contamination absence
Versatile equipment allowing adding new defect inspection upon request
Would you like to obtain a quote or have further information on ATG Technologies automated Foup Inspection System? If so, see here.
Obtenir un devis gratuit sans engagement
Prenez contact avec nos équipes commerciales afin d'obtenir un devis personnalisé.